News & events
Lunch at The Albert Square Chop House,
with Sefton Samuels photography exhibition
We are delighted to announce that we are organising a lunch at The Albert Square Chop House (Manchester) on Sunday 31 March 2019 at 1pm, along with a display of photographs and short talk by Sefton Samuels, one of Britain's greatest and most iconic photographers.
Tickets for the event are priced at £50 and include a welcome drink and three course lunch. The exhibited photographs will also all be available to buy and Sefton Samuels is kindly donating 50% of the total sales to the AKT.
To get your tickets to this exclusive event, please contact Jean Bailey (jean397@btinternet.com; telephone number 020 8883 8722) or Tessa Gough (tessagough@aol.com). You can download our invitation here to pass on to your friends.
We look forward to welcoming you on the day!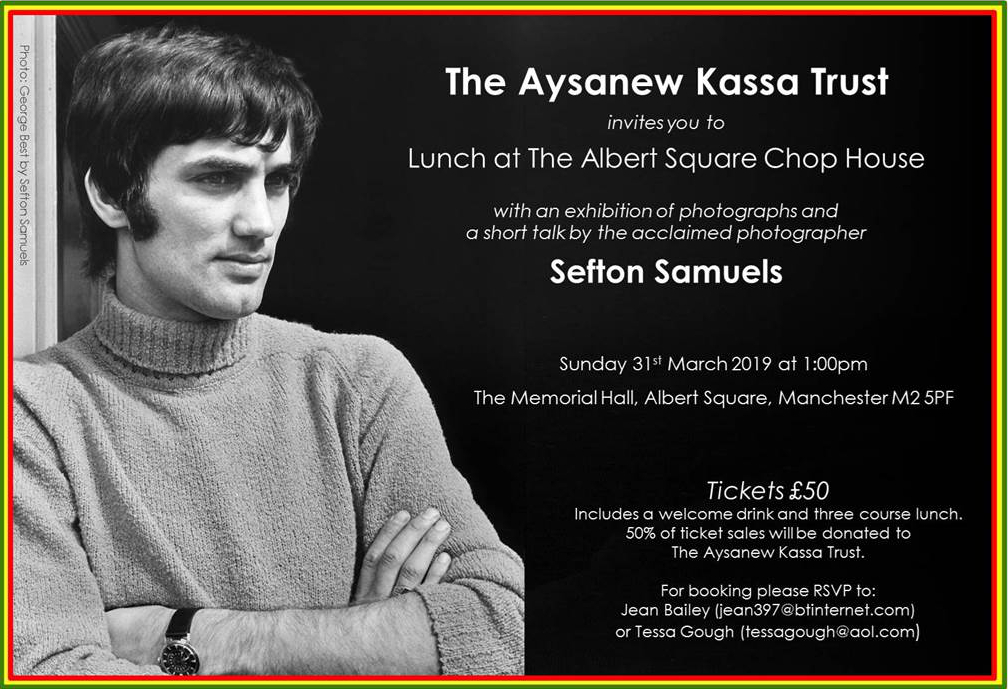 Silent auction
We will be holding a silent auction over the summer of 2019 to raise funds for our work. This event is still being organised, but if you have any items that you would be willing to donate, it would be greatly appreciated. Please get in touch with us in any of the ways listed here.
Further updates about the silent auction will be posted here in due course.
Ethiopian lunch
For the second year running, the Aysanew Kassa Trust held an Ethiopian lunch, hosted by Tessa (one of our trustees) and cooked by Egygayu, on Sunday 2 September 2018. This was highly successful: the weather was excellent and the event furthered our secondary aim of raising awareness of Ethiopian culture and cuisine abroad. Many thanks to Tessa and Egygayu, as well as all those who attended for their generous support.
Plans are afoot for a similar event during 2019, so keep your eyes open!